I can't believe how fast January has flown by! Valentine's Day is right around the corner!
I have teamed up with 13 fellow teacher bloggers to bring you the
14 Days For the LOVE of Teaching FREEBIE Blog Hop!
We are hoping to make your planning a little easier, and as well as bringing some some educational fun to the classroom!
The Blog Hop will begin on February 1, at Ms. Smarty Pants's Blog!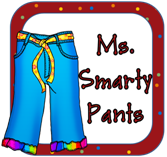 Each of the 14 days, you'll visit another Blog and pick up a new Freebie. At the end of the Blog Hop, you'll have 14 different freebies! How cool is that?